2011.8
Hello.  How are you?  To my regret, a summer vacation will be over in 3 days. 
I just want to let you know that a new hero character flashed on me. 
His name is "Muffler Z."  A red muffler he wears is a proof of a hero. 
I haven't finished illustration yet.  I will post the finished work soon.  So stay in touch with me.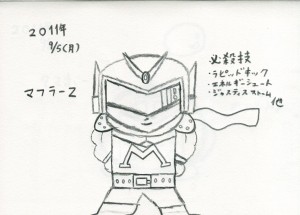 Monday, September 5, 2011
Muffler Z
Killer techniques
・Rapid kick
・Energy shoot
・Justice storm
and so on